01-10-21 | Find us on Facebook & Instagram
Our band rehearsals have started again and in bigger news, all of the new songs are now recorded! Next step is mixing and mastering the songs and vocals. Next year will be big. Don't forget our latest single Determined we have already released upon this world. In the meantime, join us on our Facebook & Instagram for some fun!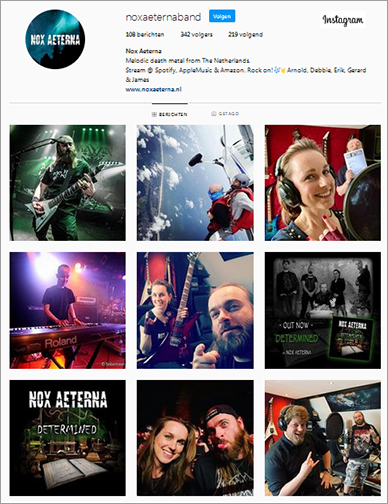 07-05-21 | New single Determined out now!
Here it is! Today we unleash our new single 'Determined' on the world. This is the melodic death metal track that will define the sound of your summer. Though a part of an upcoming concept album, 'Determined' really relates to the current state of the world in this day and age. Both its melodies and aggressiveness will keep you hooked from start to end. Check it out, you won't be disappointed. Listen on your favorite streaming services.


28-02-21 | Five new songs recorded!
No band rehearsals and no gigs for a while now. Good thing we are recording some brand new songs at our home studio. Gerard, Erik, Debbie, Arnold and James have just finished the recordings of the first 5 songs of the new album. Arnold is working hard on mixing and mastering the songs. He is also working on the vocals. A new single will be released this summer! Check out Nox Aeterna Facebook for some fun recording videos and pictures in the studio.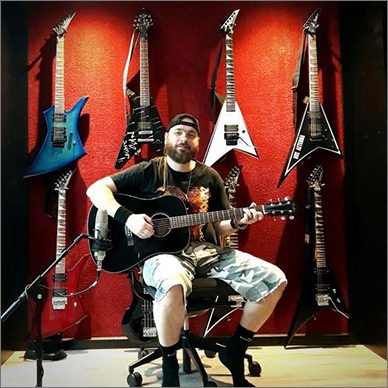 10-01-21 | Happy new year of recording
Nox Aeterna wishes you a happy and healthy new year! We are keeping busy with the recordings of our new album. We're focusing on the first half of the album. Drums and bass guitar are already recorded. Now, it's Debbie's turn to get to the studio! Keep up with us at Facebook and Instagram.


07-11-20 | Recording new songs
Nox Aeterna has started the recordings of some brand new songs for the upcoming album. Guitars and drums are now recorded at our own studio NightSin. James and Arnold are ready to go!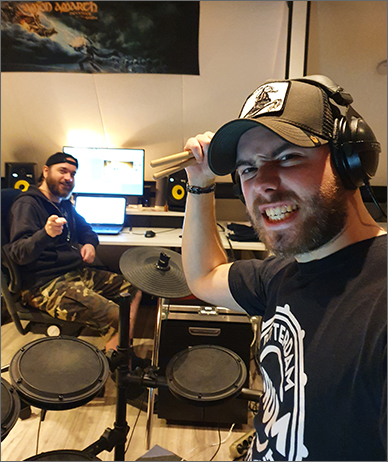 01-10-20 | Nox Aeterna starts recording new songs
We are now ready for recording some new songs! Last week we finished the preproduction of our upcoming album. The recordings will start in a couple of days. Again we will record everything at our own studio NightSin. It's gonna be a brand new full-lenght concept album. We are excited. We'll keep you informed on our socials Facebook and Instagram.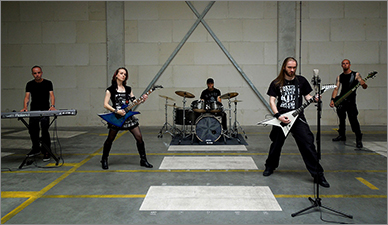 16-06-20 | Back in the studio!
Nox Aeterna is back in the studio again for rehearsals. But most important, we're dotting the i's and crossing the t's on all the new songs. A lot of the songs are ready for recording. We are aiming for a brand new full-lenght concept album again! Very exciting. Keep up with our latest news on our socials. Follow us on Facebook and Instagram for some fun.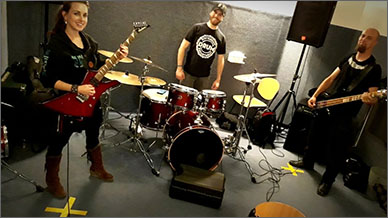 17-04-20 | Join us on Facebook & Instagram
No shows or rehearsals at the moment. But we're very much alive online. Follow us on Facebook and Instagram for some fun. And listen to all of our music on the big streaming services. Have you heard our single Nox Aeterna - The Exorcists yet? Let us know what you think and stay in touch!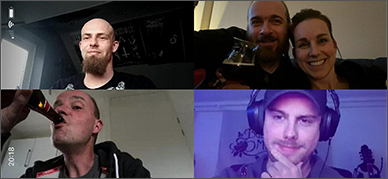 01-04-20 | Single Nox Aeterna - The Exorcists now on Spotify
Our single Nox Aeterna - The Exorcists, released in 2015, is now available on all the main streaming services, like Spotify, iTunes, Apple Music, Deezer, etc. Check it out on Spotify


Archive| More News »